CGS74CT2525N/NOPB
| | |
| --- | --- |
| 型号(PartNumber) | CGS74CT2525N/NOPB |
| 数量(QTY) | 5500 pieces IN STOCK |
| 厂家(Brand) | National Semiconductor [NS] |
| 封装(Package) | DIP-14,New&Original |
| 批号(DC.) | 10+RoSH |
| PDF(PDF.) | PDF Download |
产品简介
CGS74CT2525N/NOPB, DIP-14, Manufacturer: National Semiconductor [NS], Quantity: 5500pcs IN STOCK, UNIT PRICE: US$1.30 each.(Email or Call us for the CURRENT price)
100% NEW & ORIGINAL factory sealed. 360 days quality GUARANTEE!
Distributor: Excellent Integrated System LIMITED
Website: www.eis-ic.com www.eis-ltd.tk www.fuchaoic.com
Email: sales@fuchaoic.com
Tel.: 00852-30777742
The CGS74CT2525N/NOPB is a minimum skew clock driver with one input driving eight outputs specifically designed for signal generation and clock distribution applications. The CGS74CT2525N/NOPB is designed to distribute a single clock to eight separate receivers with low skew across all outputs during both the tPLH and tPHL transitions.
Parametrics
CGS74CT2525N/NOPB absolute maximum ratings: (1)Supply Voltage (VCC): -0.5V to +7.0V; (2)DC Input Diode Current (IIK): -20 mA at VI=-0.5V, +0.2 mA at VI=VCC +0.5V; (3)DC Input Voltage (VI): -0.5V to (VCC +0.5V); (4)DC Output Diode Current (IOK): -20 mA at VO=0.5V, +20 mA at VO=VCC +0.5V; (5)DC Output Voltage (VO): -0.5V to (VCC +0.5V); (6)DC Output Source or Sink Current (IO) g50 mA; (7)DC VCC or Ground Current; (8)per Output Pin (ICC or IGND): ±50 MA; (9)Storage Temperature (TSTG): -65℃ to +150℃.
Features
CGS74CT2525N/NOPB features: (1)These CGS devices implement Nationa's FACTTM family; (2)Ideal for signal generation and clock distribution; (3)Guaranteed pin to pin and part to part skew; (4)Multiplexed clock input (2526); (5)Guaranteed 2 kV minimum ESD protection; (6)Symmetric output current drive of 24 mA for IOL/IOH; (7)CT has TTL-compatible inputs; (8)These products are identical to 74AC/ACT2525 and 2526.
Diagrams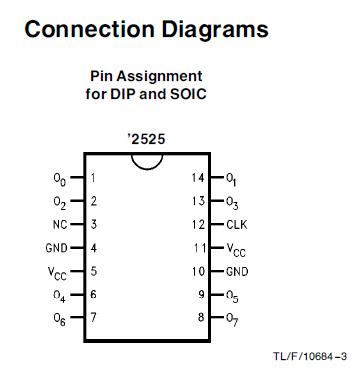 Datasheet DOWNLOAD URL: http://www.national.com/ds/CG/CGS74C2525.pdf
| | |
| --- | --- |
| Quantity Available | 5500 pcs IN STOCK |
| Manufacturer | National Semiconductor(NSC) |
| Manufacturer Part Number | CGS74CT2525N |
| Description | IC CLOCK DVR 1-8 MIN SKEW 14-DIP |
| Lead Free Status / RoHS Status | lead free/ RoHS Compliant |
| | |
| --- | --- |
| Datasheets download | CGS74C(T)2525/26 |
| Product Photos | 14-PDIP |
| Standard Package | 25 |
| Category | Integrated Circuits (ICs) |
| Family | Clock/Timing - Clock Buffers, Drivers |
| Series | 74CT |
| Type | Fanout Buffer (Distribution) |
| Number of Circuits | 1 |
| Ratio - Input:Output | 1:8 |
| Differential - Input:Output | No/No |
| Input | CMOS, TTL |
| Output | CMOS, TTL |
| Frequency - Max | - |
| Voltage - Supply | 4.5 V ~ 5.5 V |
| Operating Temperature | 0°C ~ 70°C |
| Mounting Type | Through Hole |
| Package / Case | 14-DIP (0.300", 7.62mm) |
| Supplier Device Package | 14-DIP |
| Packaging | Tube |
| Other Names | *CGS74CT2525N |
Relat number
+852-30777742
E.mail: sales@eis-ic.com